Today, I'm sharing some of the awesomely made gear and costume pieces that I've recently been introduced to. First up are a pair of wings that wouldn't so much melt as burst into flames if you got too close to the sun.
They've been called 'Icarus Wings MK3 2' and it makes me wonder what happened to the other set of wings. Possibly that flight to the sun I mentioned before. These are fully moveable wings, as well, joined by pulleys and leather straps. If you've got $1,750 (ouch!) to spend, you can buy them from the artist's Etsy store here. Me being the crafty person I am can't help but wonder if I could recreate my own version. Finding out will have to wait until my house is finished being built. There's going to be a shiny craft room to break in, after all.
The next three pieces all come from Diarment on deviantArt/Etsy.
The fact that the magnifying lens has a hand guard tickles me for some reason. Maybe because I could absolutely see some librarian forced into defending him or herself and end up wielding this as a weapon. I wonder what sort of stats it would proc. Hmmmm.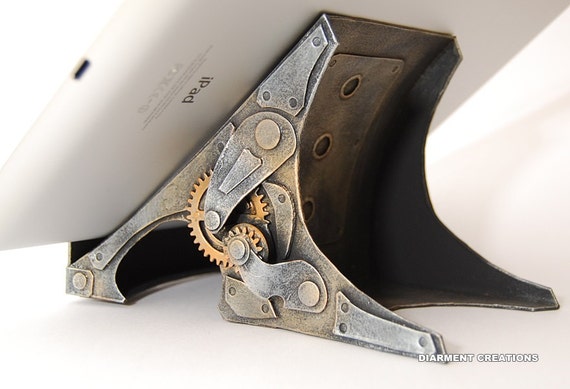 I'm not going to lie. I'm eyeing the $58 price tag for this thing (here) and wondering how I can fit it into my budget. It looks like real metal, but the creation notes indicate that it's hard cardboard and layers of metallic paint. Diarment, I tip my top hat to you. This looks like it could be used in self-defense, but it probably weighs less than the tablet that it's holding.
Made from an old plastic gun, plastic parts, cardboard, and paint. That's a list directly from his deviant post (here), and my mind is again blown away. The texturing on this is stunning, and I'd love a chance to have it up close with that magnifyer in hand so I can appreciate it more.
Every time I turn around, I find newer and cooler items in the steampunk world. I think one of the reasons I love it so much is the sheer creativity that drives its culture. If you've seen anything cool and steamy lately, mention it in the comments. I'm always looking for new things to admire!